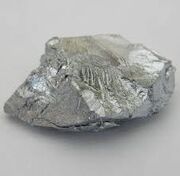 Chromium
is an
element
on the
Periodic Table of the Elements
. It is number
24
, with an
Atomic symbol
of
Cr
. It is a
Transition metal
. It is a steely-gray color. It is odorless, tasteless, and malleable. Research indicated that steel can be made more resistant to oxidation and corrosion. By smelting Chromium with
nickel
, you create an alloy, known commonly as stainless steel. Hexavalent Chromium (Cr(VI)) is chromium in the sixth oxidation state, and is a known carcinogen.
Ad blocker interference detected!
Wikia is a free-to-use site that makes money from advertising. We have a modified experience for viewers using ad blockers

Wikia is not accessible if you've made further modifications. Remove the custom ad blocker rule(s) and the page will load as expected.